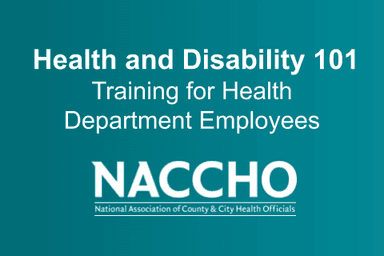 ​Health and Disability 101 Training for Health Department Employees
Ongoing Training
Description
This enduring activity provides foundational knowledge about people with disabilities, the health disparities that they experience, and how local health department staff can include people with disabilities in their public health programs and services.

OBJECTIVES:

At the conclusion of the session, the participant will be able to:
Name three major types of disability.
Describe three major health disparities experienced by the population of people with disabilities.
Provide three examples of accessible features among health department programs and services.
Explain three benefits to including people with disabilities in health department programs, products and services.
Describe one way that this educational activity will improve my contribution as a team member.
Length: 60 minutes

Professional Tier:  Tier 1, Tier 2 , Tier 3

ACCREDITATION STATEMENTS:
In support of improving patient care, this activity has been planned and implemented by Centers for Disease Control and Prevention and NACCHO; WF Consulting; Association of University Centers on Disabilities (AUCD); The Ohio State University Nisonger Center. The Centers for Disease Control and Prevention is jointly accredited by the Accreditation Council for Continuing Medical Education (ACCME), the Accreditation Council for Pharmacy Education (ACPE), and the American Nurses Credentialing Center (ANCC), to provide continuing education for the healthcare team.

CNE: The Centers for Disease Control and Prevention designates this activity for 1.0 nursing contact hours.

CECH: Sponsored by the Centers for Disease Control and Prevention, a designated provider of continuing education contact hours (CECH) in health education by the National Commission for Health Education Credentialing, Inc. This program is designated for Certified Health Education Specialists (CHES®) and/or Master Certified Health Education Specialists (MCHES®) to receive up to 1.0 total Category I continuing education contact hours. Maximum advanced level continuing education contact hours available are 0. Continuing Competency credits available are 1.0. CDC provider number 98614.

For Certified Public Health Professionals (CPH)
The Centers for Disease Control and Prevention is a pre-approved provider of Certified in Public Health (CPH) recertification credits and is authorized to offer 1.0 CPH recertification credits for this program.

DISCLOSURE: In compliance with continuing education requirements, all presenters must disclose any financial or other associations with the manufacturers of commercial products, suppliers of commercial services, or commercial supporters as well as any use of unlabeled product(s) or product(s) under investigational use.

CDC, our planners, content experts,and their spouses/partnerswish to disclose they have no financial interests or other relationships with the manufacturers of commercial products, suppliers of commercial services, or commercial supporters. Planners have reviewed content to ensure there is no bias. Content will not include any discussion of the unlabeled use of a product or a product under investigational use.

CDC did not accept commercial support for this continuing education activity.

Instructions for Obtaining Continuing Education (CE)

In order to receive continuing education (CE) for WB4160 Health and Disability 101 Training for Health Department Employees please visit TCEO andfollow these 9 Simple Steps before August 19, 2023.

Complete the activity
Complete the Evaluation at www.cdc.gov/GetCE
Pass the posttest at 75% at www.cdc.gov/GetCE